Michigan Community Resources and Co.act Detroit
in Partnership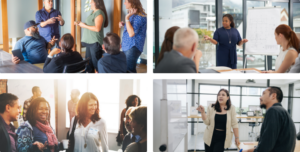 In 2019, Michigan Community Resources , Michigan Nonprofit Association , Nonprofit Enterprise at Work , and the University of Michigan School of Social Work came together around a shared thought:
"Collectively, we've been doing capacity building for decades. During that time, more and more nonprofits have come online, yet we still haven't seen the needle move towards equity in our sector or our communities in a radical way. What are the barriers holding us back, and what do we need to do differently?"
This thought led to an extensive process of engagement and research culminating in the report Building a Network: Recommendations for Redefining Capacity in Southeast Michigan, which Co.act Detroit adopted as its blueprint.
Today, both of our organizations share a commitment to strengthening nonprofits and bringing the recommendations in BAN to life by tackling systemic barriers to advance equity in the social change ecosystem. We serve the nonprofit sector in distinct and complementary ways:
Michigan Community Resources has 25 years of experience learning from and being responsive to the needs of the nonprofit community. As a result we have broad network connections and deep roots in communities within and around Detroit.
Co.act is a young organization, bringing a fresh perspective and innovative lens. Years of engagement went into the formation of Co.act, and we are really designed to be a reflection of the aspirations of nonprofits in Southeast Michigan.
We have a symbiotic relationship and a core belief that we can achieve more together than we can on our own. Through Dovetail we are forming a new collaboration—one designed to forge the connections necessary to achieve transformative impact in our region.

From the Activate Fund to a Directory Designed for You.
In conversations with nonprofits and community organizers in the region, we heard that one of the most pressing needs is for a directory of vetted consultants to help build your capacity to foster communities where all people can thrive.
In 2019 Co.act issued a public RFQ for service provider participants to the Activate Fund. Submissions were reviewed by a diverse cross-sector jury and evaluated based on qualifications and experience, client service, alignment with Co.act values, capacity to participate within the program timeframe, and relevancy of service expertise to specific grantee needs.
Service providers who successfully qualified through the Activate Fund RFQ process were eligible for a service match with nonprofit organizations selected through the 2020 and 2021 Nonprofit Fundamentals and Collaboration Pilot programs. As part of the effort to build a robust pool of providers to refer nonprofits to, Community Development Advocates of Detroit (CDAD) issued their own RFQ for providers with expertise in supporting Community Development Organizations with capacity building and professional services.
After these pilots, we saw an opportunity to expand the impact of this model and the relationships we built along the way.
We built Dovetail around these core values and the vision of a pool of vetted, quality consultants and capacity builders focused on supporting your capacity to grow equitable communities where all people can thrive. While the Dovetail directory application process will be less rigorous for new service providers looking to connect with nonprofits, those who participated in either of the RFQ application processes are indicated in the directory with a badge on their profile– either CDADs logo if they responded to that RFQ, or Co.act Detroit's logo if they successfully met the requirements of the Activate Fund RFQ.